Alicia Hibbert
Lead Editor

Becca Shortt
Lead Fact-Checker & Citation Specialist

Destiny Chalifoux
Editorial Associate & Sensitivity Reader
Have a document that needs some TLC?
"Alicia offered really excellent resources and thought provoking questions to help me improve my project. Her communication was detailed and clear and I very much enjoyed our interactions. I would definitely recommend Edified Projects to other writers."
How we work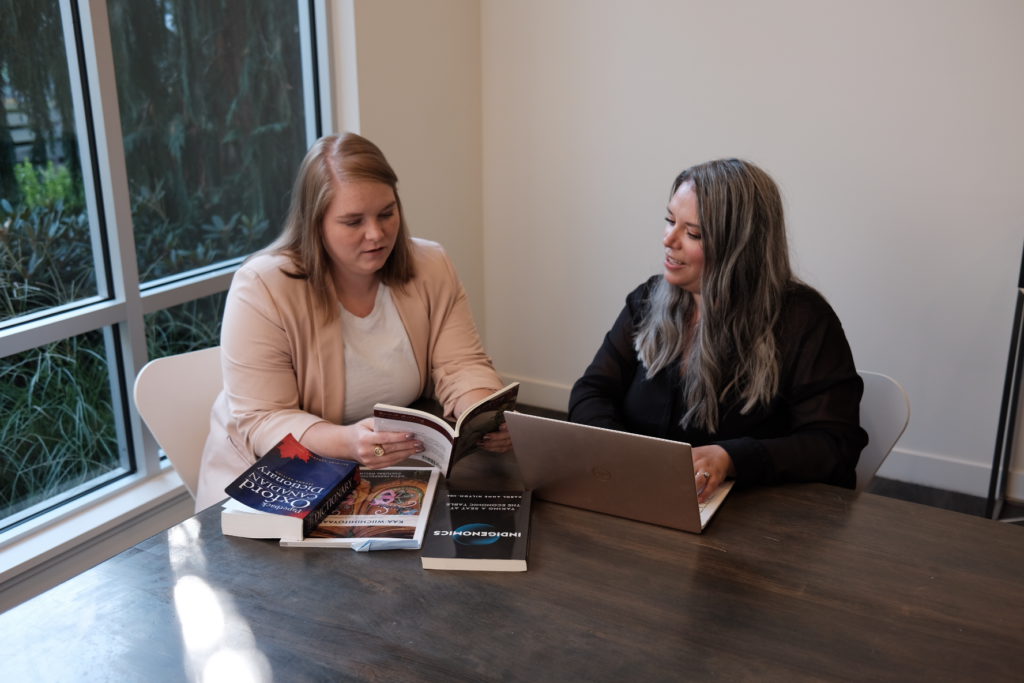 We often work as a team, including mentoring junior professionals, and are generally able to provide last-minute services for copy editing and proofreading.
Photo credit: Lisa Walker
Editing services
Editing at its most involved – and earliest in the process – looks more like coaching. This is substantive editing. When you are in the earlier part of writing, you can engage a substantive editor to help with overall organization, providing resources, and ensuring respectful language. Our key areas of expertise: social sciences, Indigenous communities, workplace health promotion & wellbeing, mental health, ESL (English as a Second Language) dissertations, and Metis identity. You can book us to edit inclusive communications anytime here.
Once your writing is complete, copyediting involves correcting tone, grammar, standardizing language, noting word choices, and may involve some basic fact-checking. This is the most common area that businesses seek support for reports.
Fact-checking is an important part of non-fiction writing. For shorter pieces like blog posts and other journalistic writing, we provide fact-checking services.
If your manuscript is a non-fiction resource, you may also look for indexing services.
Proofreading is generally the final step, and usually involves making critical punctuation or formatting changes/notes in a PDF proof.
Sensitivity reading can be adapted to each of the editing stages mentioned above, or stand alone as a reader's report (for example, on a book proposal). The purpose of sensitivity reading is to leverage someone's specific perspective in a report about a piece of writing. We support non-Indigenous authors writing about Indigenous peoples, looking for unconscious bias, stereotypes, potential microaggressions, and acceptable terminology. Our goal is to help you do less harm so Indigenous people feel respected. We don't claim to provide perspective for all Indigenous peoples, but rather improve the representation and quality of your work when it is about Indigenous peoples.
"Edified Projects gave me targeted feedback on language, potential issues, and best approaches in my creative writing and communications with regards to Indigenous issues. I greatly appreciated their advice, promptness, and attention to budget."
P.D. Workman, Author
Our experience
Some of our latest projects are listed below. We love working on academic manuscripts with Indigenous authors and content, memoirs, and creative literary manuscripts. For a fuller list, go to our Editing Experience page.
Alicia has worked on sensitivity reading, book proposal reviews, Land Acknowledgements, and a definition of Métis for publishers like Greystone Books, Chronicle Books, and Simon & Schuster.