The Gottman 7 Principles for Making Marriage Work – Couples workshop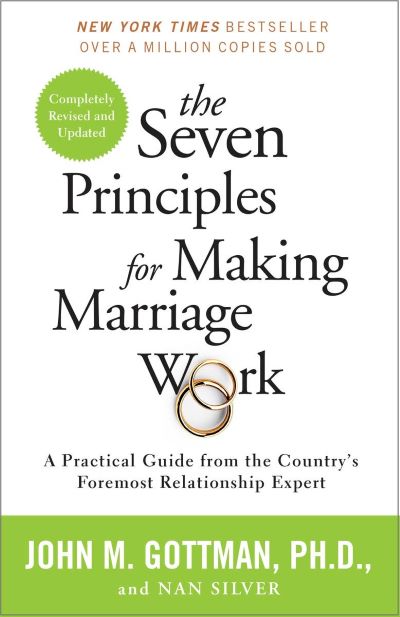 "By incorporating these Seven Principles into your marriage, you really can change the course of your relationship."

— John M. Gottman
A Relationship Enrichment Workshop
This psycho-educational workshop, developed by the Gottman Institute, provides couples with foundational knowledge on healthy relationships as well as the opportunity to practice practical hands-on activities. The seven principles are helpful for couples at any stage of the relationship.
The workshop is built on decades of data and research regarding relationship satisfaction and follows the outline of the groundbreaking New York Times best seller The Seven Principles for Making Marriage Work by John Gottman, Ph.D. and Nan Silver. This workshop aids couples in deepening the friendship foundation of their relationship, managing conflict successfully, honoring each other's dreams, and creating shared meaning.
Format
A modular cumulative approach
12 hours total training, conducted on Google Meet
Teaching and demonstrations with break out sessions where you and your partner work through activities. Break out sessions occur between the couple and are not shared with the group.
Group runs based on minimum number of registrants. Limited spaces available.
Led by a trained Gottman Seven Principles Program Leader who has also completed Level 2 Training in Gottman Method Couples Therapy.
Participants will receive a Couples Guide and Seven Principles for Making Marriage Work book.
Couples Guide helps integrate knowledge from the book and provides space to complete the exercises in the workshop
What You Will Learn
Improve friendship, fondness, and admiration
Enhance romance and intimacy
Manage conflict constructively
Gain skills to address problems calmly
Create shared meaning
How to maintain gains throughout a lifetime
Who Should Attend
Couples in committed relationships, whether that is pre-engaged, pre-marriage, married, common-law. These skills apply to every phase of a relationship.
Those who wish to enhance/strengthen their relationship
Couples needing better conflict management tools
Couples who may be contemplating couples therapy but are not yet ready for therapeutic support
People and couples of all backgrounds, ages, faiths, sexual orientations, and relationship arrangements
Who Should Not Attend
This psycho-educational class format is not appropriate for all couples. This workshop is not intended for:
Couples dealing with any form of abuse, domestic violence, unwanted touch, or substance abuse
Couples dealing with severe relationship distress
Individuals struggling with serious emotional or mental health problems
Relationships with serious compulsive behaviour with gambling, sexual acting out and other disruptive behaviours.
If any of the above mentioned points describes you and/or your relationship, this class is not appropriate, instead it is recommended to seek individual or couples therapy.
Frequently Asked Questions